Familiarize yourself with the different types of handyman insurance that your business needs. Our guide covers everything you need to know on the topic.
A good handyman always has the right tools in his kit. But there's one crucial tool you can't purchase at the hardware store. Yet, it's essential for the well-being of any contractor's business – and that's insurance.
The more services you offer, the more risks your business takes. Handyman insurance safeguards clients, employees, and employers from those risks and allows everyone to enter business relationships with more security and loyalty.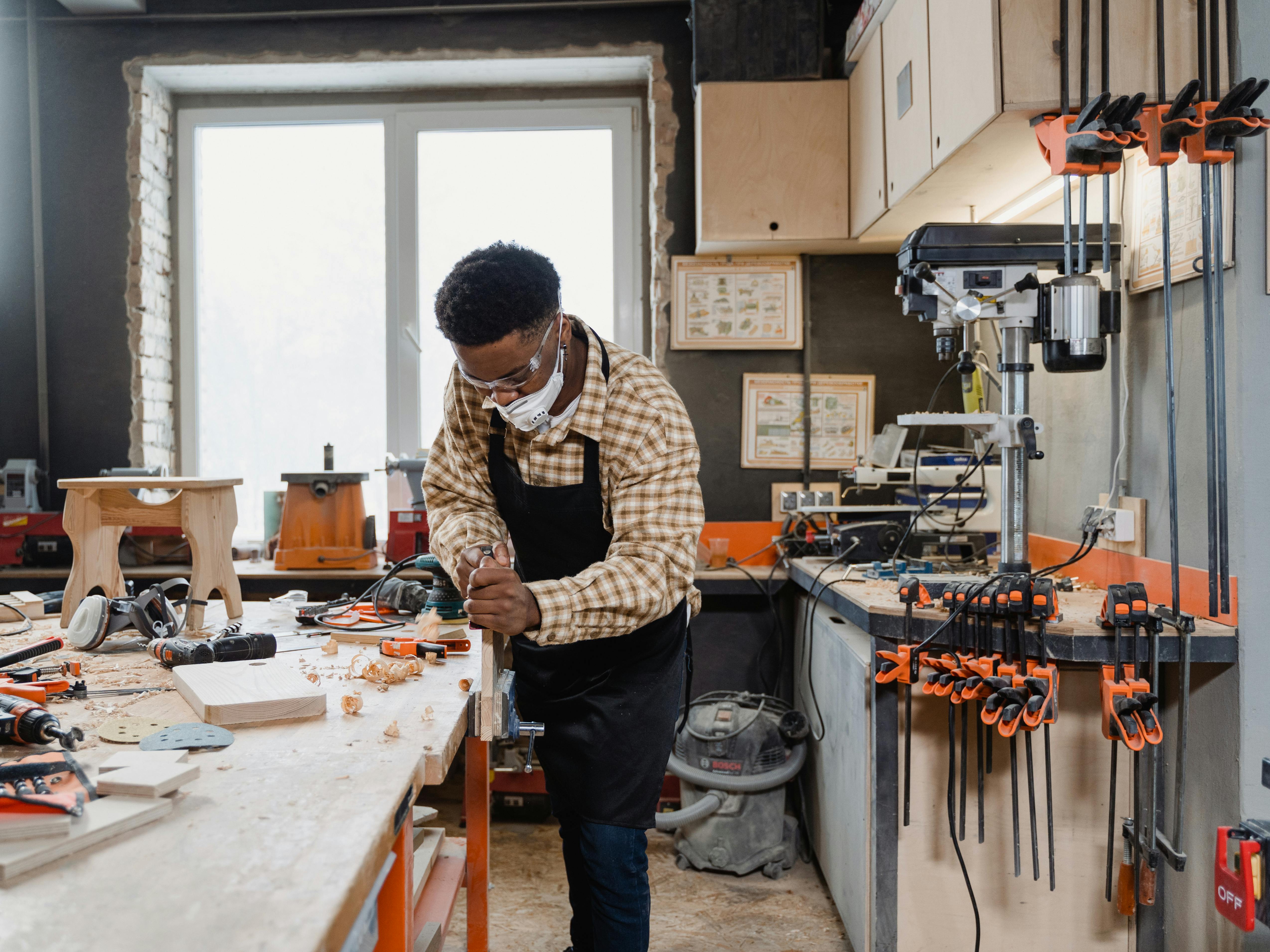 But there's more than one type of handyman insurance to be aware of, and all of them tackle different aspects of the repair service industry. It's no longer practical to just opt for one or two types of handyman insurance. As time goes on and the law evolves, you must set new regulations and precautions for optimal safety and protection.
Knowing the difference between all the insurance types can be overwhelming. This article will outline eight of the most common types of coverage for your convenience. By understanding more about the different handyman insurance options, you can make a more informed decision to help your business grow.
Types of Handyman Insurance
#1. General Liability Insurance
Many people share the misconception that because general liability insurance is called "general," it covers everything at once. But this is not the case. General liability insurance is the bare minimum any business should have secured for protection against second and third-party injuries and lawsuits.
General liability insurance covers some things that include damage to your client's property, bodily injury to third parties, and your business' legal defense (inclusive of settlements) if you're sued. General liability insurance is more for business protection in the event of a client's grievances. 
For example, if your handyman business installed a generator at a client's house that then exploded and caused physical harm due to an installation error, you'd be held responsible. However, general liability insurance would cover the injured person's medical costs and your legal fees in the event of a lawsuit.
#2. Commercial Auto Insurance
While you may not need truck driver insurance, you need commercial auto insurance for incidents relating to the cars your company drives while on the job. Most handyman businesses have at least one vehicle to help transport tools, equipment, and employees to their client's locations. And those vehicles need protection.
Roads are one of the places that tend to see high volumes of injury and accidents. This is why commercial auto insurance is so important for any business that uses them. You can get coverage for both your vehicle and the employees driving it, protecting them from collisions, weather-inflicted damage, road accident injuries, and property damage.
Whether you are involved in the industry of odd jobs or small business shipping, if your business' employees operate cars as a part of their job description, this form of insurance is absolutely essential. And if you ever do have trucks on the road, you will need truck driver insurance too.
#3. Tools and Equipment Insurance
Tools and equipment insurance is a type of property insurance that provides financial protection for tools or equipment that are transportable. While few handyman businesses are based at an office or brick-and-mortar property, any owned goods, tools, and equipment will still need legal coverage in case of an incident. Having insurance like this in place means you're entitled to reimbursement to repair or replace tools if they're lost, damaged or stolen.
The tools and equipment used by handymen are often expensive and difficult to repair. Having the right set of tools in place is also essential for a handyman business to continue operating at full capacity. If a core piece of equipment is damaged or broken, it can have a drastic effect on the output. This makes tools and equipment insurance crucial for any contractor business.
#4. Workers' Compensation Insurance
Workers' compensation is another standard form of insurance that every business should have under its belt. Handymen are frequently exposed to several physical health risks. This form of insurance helps to cover their medical bills, pay for time off of work, and fund any legal fees that arise due to a related lawsuit.
If a handyman injures himself while performing a job requirement, he can undergo any necessary surgeries, medication sequences, or examinations without paying for them himself. His family can also be supported while he is unable to work.
But workers' compensation insurance is not just about protecting the employee. It's also about protecting the employer. If your business doesn't have workers' comp, employees can sue you and receive a massive payout due to negligence. Workers' comp is for everyone's sake.
#5. Subcontractor Insurance
Subcontractors are unofficial employees hired by a company to do informal or short-term work. But even though a business does not technically employ them, they can still sue you for various grievances if an incident occurs on the job.
You should always verify whether a subcontractor has insurance before taking them on. But to be safe, obtaining proper subcontractor insurance is essential for any handyman business. You can easily discuss your workers' comp plan with a lawyer and find a policy that includes subcontractors in your overall handyman insurance plan.
#6. Professional Liability Insurance
Everyone makes mistakes sometimes, even professionals in their field – and that's why professional liability insurance was invented. If one of your employees makes a mistake based on their professional judgment or execution, the fault lies with them, and clients can still sue.
This is the main difference between general liability insurance and professional liability insurance. Say, for example, a faulty generator was built in a factory. Once installed, the generator exploded, harming three people due to this fault. This incident would require general liability insurance.
Now, imagine a perfectly functional generator is poorly installed by a professional handyman, which directly causes an explosion. That incident would call for professional liability insurance because it relates to the liability the professional caused.
#7. Cyber Liability Insurance
Although data breach and cyber liability insurance are relatively new to the market, it is rapidly gaining recognition for its necessity in 2022. Since 2020, the number of data breaches has increased by 68%. These rising stats have prompted more and more businesses to invest in this valuable form of insurance.
Without data breach and cyber liability insurance, your business remains utterly vulnerable to a cyberattack. And before you think you've got nothing worth taking, think again. Small businesses are the number one target for cybercriminals because they are often entirely unprotected.
Among many other disturbing things, hackers can steal your financial information (therefore gaining access to and stealing your money, disrupt your ability to trade online, and steal your client's data, resulting in a costly lawsuit. No thanks.
Data breach and cyber liability insurance will provide coverage for all of these things. It will protect both you and your clients from the vast expenses that come alongside having your identity and financial details leaked.
How much does handyman insurance cost?
The cost of an insurance plan largely comes down to the insurance type and company you are getting it from. To give you a clearer idea of what these coverage plans cost per month, take a look at these rough estimates taken from all over the US in 2022:
General liability insurance:

$50

Commercial auto insurance:

$140 +

Property insurance:

$100 – $2,000

Workers compensation insurance:

$78

Subcontractor insurance:

$30

Professional liability insurance:

$50

Data breach and cyber liability insurance:

$145
If your handyman business is a small or medium-sized enterprise (SME), all these costs can certainly seem daunting. However, they pale compared to the expenses you risk being liable for if something goes wrong. You can reduce the costs by seeking advice from experts and industry peers, seeking out cheaper group or "umbrella" insurance policies, and training staff well to prevent harmful incidents.
Is Handyman Insurance Mandatory?
Yes, handyman insurance is mandatory for conducting your business safely and sustainably from a practical standpoint. But even though most states do require handyman businesses to obtain insurance before going public, the laws differ somewhat depending on where you are based in the US.
When you have a small freelance team, having liability insurance of any kind might seem like a luxury, and for the most part, you may get away with it in the early phases of business. However, if you want to play the long game, several forms of liability insurance are necessary for success.
Handyman insurance becomes more important as your client base widens. Bigger clients won't want to do business with uninsured handymen. The smaller ones who do can just as easily sue you if something goes awry. Once your business is strong enough that clients are paying correctly and regularly, there is no good excuse for omitting proper handyman insurance in all its unique varieties.
Additionally, if you plan to work on business complexes or apartment blocks, you will need proof of insurance before you can even begin. As expensive and troublesome as it may feel, obtaining handyman insurance is mandatory if you want your business to flourish in the long term.
Put Clients And Employees At Ease With The Right Insurance
When it comes down to it, insurance is about peace of mind. For your employees, for your clients, for your business. If you want your business to withstand the test of time and cultivate a positive, trustworthy reputation, you've got to be good in a crisis.
Accidents, errors, mistakes, whatever you want to call them, happen, and they happen a lot. You can't avoid them. But you can prepare for them, which is precisely what insurance was designed to help you do. Fortunately, there are loads of insurance companies around to facilitate those unforeseen faults and restore the reputation of your business, no matter what happens.